Dit zijn voor- en nadelen van de verschillende ontharingsmethoden
4 april 2021
Vanaf onze tienerjaren moeten we met de constante struggle dealen dat er haar groeit op plekken waar we het misschien liever niet zouden willen hebben. Of het nou je oksels, benen, snor of bikinilijn is: vaak willen meiden de haren hier graag zo snel mogelijk gonerz hebben.
Er zijn dan ook een hele hoop ontharingsmethoden bedacht, om die vervelende haartjes weg te werken. Zoveel verschillende, dat je bijna niet zou weten welke je moet kiezen. Speciaal daarom zette CG! de voor- en nadelen van de verschillende ontharingsmethoden voor je op een rijtje, zodat jij gemakkelijk een keuze kan maken.
Oh en by the way: je hoeft je natuurlijk helemaal niet te ontharen hè! Gewoon puur natuur blijven is ook helemaal prima (en scheelt je daarbij een hoop geld, tijd en moeite!). Doe waar jij je comfortabel en fijn mee voelt. You do you :-).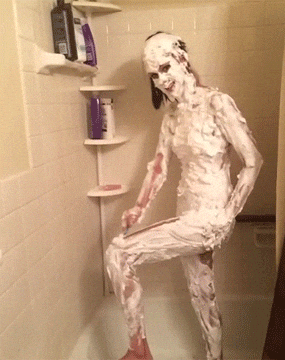 Scheren
De meeste vrouwen maken voor het ontharen gebruik van het simpele scheermesje. Met scheren gebruik je een scheermes en wat scheerschuim om haar op grotere oppervlakten snel te verwijderen.
VOORDELEN
Het makkelijk, snel en volledig pijnloos! Door middel van wat scheerschuim en een scheermesje kun je heel gemakkelijk (grote) oppervlaktes hairfree maken. Super handig dus ook als je haast hebt (let er wel op dat je je niet snijdt!)
NADELEN
Omdat je bij scheren de haartjes als het ware afsnijdt in plaats van volledig verwijderd, kun je zelfs al na één of twee dagen weer stoppels hebben, en kunnen de haren bovendien iets dikker terug komen. Scheer daarom ook nooit je gezicht, maar gebruik deze ontharingsmethode vooral voor bijvoorbeeld de benen, oksels en bikinilijn. Ook kun je van scheren nog wel eens vervelende bultjes krijgen, die erg kunnen irriteren. Qua kosten valt het mee, al moet je natuurlijk wel eens in de zoveel tijd een nieuw scheermesje en scheerschuim aanschaffen.
Ontharingscrème
Een andere manier om pijnloos haartjes weg te halen, is via een ontharingscrème. Dit is een crème die je bijvoorbeeld op je benen smeert, een aantal minuten laat intrekken en er vervolgens met de bijgeleverde spatel eraf schraapt, waarbij alle haartjes meegaan. De crèmes bevatten bepaalde chemische stoffen die veilig reageren op je lichaamshaar. Ze verzwakken je haren, waardoor de haren bij het haarzakje, net onder de huid, afbreken.
Je hebt ontharingscrème van verschillende merken, zoals deze van Veet.
VOORDELEN
Ook deze ontharingsmethode doet helemaal geen pijn! Na de behandeling ben je een paar dagen helemaal haarvrij én de verwijderde haren komen een stuk minder stug terug dan wanneer je je hebt geschoren. Bovendien wordt je huid er ook nog eens lekker zacht van.
NADELEN
Helaas kan de crème aanbrengen soms nog wel eens een tijdrovend en lastig klusje zijn en ruiken niet alle crèmes even lekker… #gross. Ook deze manier van ontharen is bedoelt voor het lichaam, en niet het gezicht.
Waxen
Bij waxen wordt een bepaalde type wax (zacht of hard) aangebracht op het lichaam of het gezicht, die er vervolgens (eventueel met een stukje katoen) in één snelle beweging wordt afgetrokken, waardoor gelijk alle haartjes meekomen.
VOORDELEN
Het voordeel hiervan is dat je haren een lange tijd wegblijven én dunner terug groeien omdat deze uit hun haarzakjes worden getrokken. Je kunt je daarbij gewoon laten waxen bij een salon, waardoor je helemaal niet zelf aan de slag hoeft. Wil je het toch zelf doen, kun je ook gewoon bij de drogist waxstrips kopen, zoals deze.
Ook is waxen vrij snel, in vergelijking met scheren natuurlijk niet, maar na zo'n 20 minuten kun je bij een behandeling in een salon alweer buiten staan. Als je zelf aan de slag gaat, duurt dit waarschijnlijk wel ietsje langer.
Een ander groot voordeel: je hebt geen last van vervelende scheerbultjes! Bij waxen kan je huid net erna iets geïrriteerder zijn, maar dit zal snel wegtrekken. Zeker perfect voor je bikinilijn.
Lees ook: Dit kun je verwachten bij je eerste bikini wax en Wat te doen voor én na een bikini wax
NADELEN
Tja, het nadeel van waxen is dat het nou eenmaal pijn doet. Maar don't freak out! Over het algemeen zijn mensen vaak verrast met het feit dat het minder pijn deed dan ze dachten.
Ook kan waxen een stuk duurder zijn dan de andere ontharingsmethoden. Tenzij je het zelf doet, want waxstrips zelf vallen reuze mee in prijs. Als je het wilt laten doen bij een salon, kost het daarentegen een stuk meer. Bij een professionele salon kunnen de prijzen oplopen van €10 tot rond de €50.
Met waxen kun je ook meer kans hebben op ingegroeide haren, wat nogal vervelend kan zijn. Maar dit kun je voorkomen door een milde scrub te gebruiken op het gewaxte gebied.
Als laatste moeten er natuurlijk wel goede haren zijn om te waxen, waardoor het nodig is dat ze tussen de 5mm en 1,5cm zijn. Dit kan even balen zijn, omdat je dan even net een tijdje voor je waxbeurt moet rondlopen met wat langere haren.
Nog meer voor- en nadelen van waxen lees je hier.
Epileren
Epileren gebeurt met een pincet, en wordt vooral gebruikt voor het gezicht (en dan voornamelijk de wenkbrauwen). Met epileren trek je namelijk haartjes één voor één eruit. Voor het lichaam kun je daarom beter een epilator gebruiken (zoals deze). Dit is een apparaat die meerdere haartjes op een hoog tempo verwijdert.
VOORDELEN
Met een pincet kun je de haartjes erg precies verwijderen, wat handig kan zijn als je bijvoorbeeld maar enkele haartjes rondom je wenkbrauwen wilt weghalen. Omdat je bij epileren haartjes uit hun haarzakjes trekt, blijven de haartjes langer weg én komen ze dunner terug! Ook hoef je maar eenmalig een pincet of een epilator te kopen, die je vervolgens kunt blijven gebruiken.
NADELEN
Het nadeel van deze ontharingsmethode is dat het wel even pijn kan doen. Je trekt namelijk natuurlijk de haartjes uit hun haarzakjes. Zeker bij een epilator moet je even je tanden op elkaar zetten, maar hoe vaker je het gebruikt, hoe dunner de haartjes worden en hoe meer de pijn meevalt.
IPL/Laseren
IPL en laseren is eigenlijk de meest 'nieuwe' manier van ontharen, waarbij er gebruik wordt gemaakt van lichtflitsen. Je kunt dit laten doen in een salon. Het verschil tussen IPL en laseren is dat IPL minder sterk is en gebruik maakt van meerdere golflengtes, terwijl laseren één krachtige energiestraal van één golflengte gebruikt.
VOORDELEN
Via de flits wordt ervoor gezorgd dat een haarzakje vernietigd wordt. Hierdoor zal uiteindelijk het haarzakje verdwijnen en ben je eigenlijk permanent haarloos. Daarnaast is de behandeling vrijwel pijnloos!
NADELEN
Helaas heb je voor IPL en laseren vaak meerdere sessies nodig (ongeveer 6 tot 10, dat ligt aan jouw type haargroei), om het haarzakje echt goed te laten verdwijnen en hangt er bovendien nogal een groot prijskaartje aan. En hierbij kun je gerust in honderden euro's denken… #ouch
Ben je er nog steeds niet uit welke manier jij het fijnst vindt? Doe dan de quiz: welke manier van ontharen past het beste bij jou?
Beeld: Freepik
Gerelateerde artikelen