Met deze tips blijft je parfum een stuk langer zitten
18 december 2020
Als je parfum draagt, wil je natuurlijk wel dat je 'm de hele dag blijft ruiken. Daarom vroegen we de parfumeurs van Givenchy om een aantal tips. Read & learn.
Koel bewaren
Net als make-up, heeft ook parfum een houdbaarheidsdatum. Ruikt jouw parfum niet meer helemaal lekker of is 'ie verkleurd? Grote kans dat 'ie dan niet goed meer is. Om verkleuring tegen te gaan en de houdbaarheid te verlengen, kun je je parfum het beste bewaren op een donkere koele plek.
Nieuwe parfum kopen? Hier moet je op letten!
Lekker vet
Parfum blijft veel beter zitten op een iets vettere huid dan op een droge. Smeer daarom van tevoren een beetje Vaseline of bodylotion (neutraal of in dezelfde geur) op de plek waar je je parfum gaat aanbrengen.
Niet wrijven
Als je gaat wrijven (bijvoorbeeld je polsen over elkaar) wanneer je net parfum hebt opgedaan, komen de topnoten vrij en daardoor vervaagt de geur eerder. Niet doen dus!
Deze beautyitems kun je beter niet aan iemand uitlenen
Juiste plek
De geur van je parfum kan zich beter ontwikkelen op warme plekken. Spray je parfum dus net achter je oren, op je borst, op je polsen en in je holtes.
Struggles bij het kiezen van een nieuw parfum? Dit zijn CG!'s top picks!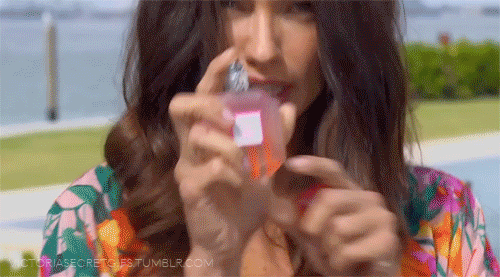 Givenchy
Onze stagiair Isa mocht naar Parijs voor de lancering van het nieuwe parfum Irresistible van Ginvenchy. Een feminine, verleidelijk en fris geurtje. Dankzij de verrassende mix van rozen, blond wood, musk, peer en ambrette zou het zomaar je nieuwe favo everyday parfum kunnen worden. de 21-jarige Fran Summers is het gezicht van de campagne!
Beeld: Gettyimages
Gerelateerde artikelen