Alles wat je moet weten over de Midterms in de VS
8 november 2018
De tussentijdse Congresverkiezingen in de VS – aka de Midterms. Je vindt het een ver-van-je-bed-show, kinda pretty boring, juist heel interessant of iets in between. Maar wat jouw idee bij de Midterms ook is: 1. Een whirlwind aan informatie is het zeker, en 2. Belangrijk as frick is het al helemaal. Why? Omdat de Amerikaanse president een van de machtigste personen on earth is, zijn (of wie weet over twee jaar; haar!) beslissingen indirect effect hebben op alle landen én omdat deze verkiezing in het teken stond van jongeren, vrouwen, diversiteit en gelijkheid. In jip-en-janneketaal, met een vleugje gezelligheid, leggen we het aan je uit.
Que?
Oké, oké, even terug naar wat de Midterms nou precies zijn. Tijdens deze verkiezingen, die halverwege de zittingstermijn van de huidige president plaatsvinden, wordt opnieuw gestemd over de indeling van Het Congres. Het Congres bestaat uit het Huis van Afgevaardigden (aka House) en de Senaat (aka Senate). Très importante – maar echt – want dit is dé kans voor de Democraten om een stukje macht terug te pakken.
Het Huis van Afgevaardigden


Het Huis (in het Engels: the House) heeft binnen het Congres het budgetrecht. Als het Huis in handen komt van Democraten, kunnen zij besluiten dat de president, Republikein Trump, geen geld meer krijgt voor projecten die hij voorstelt. Reken dus maar dat er dan dingen gaan veranderen.
Senaat


De Senaat (in het Engels: Senate) heeft op alle wetsvoorstellen van de president instemmingsrecht (twee-derde van de Senaat moet akkoord gaan met een voorstel) en kan ook zelf wetgeving voorstellen. De Senaat moet ook instemmen met het sluiten van internationale verdragen.
Als de Democraten de meerderheid weten te scoren in het Huis (spoiler: gaat ze waarschijnlijk lukken!), wordt de machtspositie van de Republikeinen van tafel geveegd en kunnen we voor hun – en Trump's – plannen alvast heel voorzichtig een enkele reis naar thxbutnothx-ville boeken. De wetsvoorstellen van de Republikeinen moeten dan namelijk eerst langs heel veel Democraten en heck to the nope dat zij cool zijn met de rechtse wensen van de Republikeinen. Jip-en-janneketaal verjip-en-janneket: als de Democraten met een goed en optimistisch gevoel willen gaan slapen, moeten ze de meerderheid in het Huis scoren.
De resultaten
Afgelopen dinsdag sloten rond middernacht Nederlandse tijd de eerste stemlokalen in Amerika. De laatste sloot woensdagochtend. En dat betekent dat er inmiddels conclusies getrokken konden worden over de resultaten.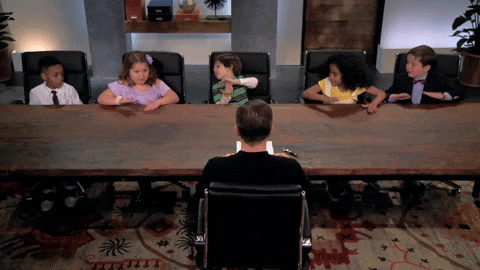 Zo lijken zowel de Republikeinen als de Democraten reden te hebben voor een feestje. De Republikeinen, omdat ze blijven overheersen in de Senaat. De Democraten, omdat het erop begint te lijken dat ze de macht terugpakken over het Huis. Zij hadden 23 zetels nodig om de meerderheid te veroveren, maar naar verwachting gaan ze er minimaal 30 behalen. Ze versloegen zelfs 17 Republikeinse parlementariërs die al jaren in het parlement zitten. 'Een nieuwe dag in Amerika', zegt Nancy Pelosi, de Democratische leider in het Huis. Awesome.
Stand together
En dat is niet het enige wat awesome is aan deze verkiezingen. Dit jaar was namelijk groundbreaking voor alle groepen die door de Republikeinen bestempeld worden als 'minderheden'. Zo stond een recordaantal vrouwen kandidaat op de stembiljetten, en is een recordaantal zetels in het Huis ook gewonnen door vrouwen. (YAS!) Naar verwachting maken meer dan 100 vrouwen intrede in het Congres. Het totale aantal vrouwen in het Congres lag hiervoor op 85.
'Dit is geen moment, maar een movement. Voor gelijkheid en gerechtigheid voor dit land', zegt Andrea Dew Steele, de oprichter van Emerge America, een partij die Democratische vrouwen recruit en traint voor politieke verkiezingen. We couldn't agree more.
Midterms of firsts
And there's more. Democrate Alexandria Ocasio-Cortez werd de jongste vrouw in het Congres ooit – ze is nog maar 29! Een jaar geleden stond zij nog achter de bar, maar in no time ging ze viral met haar campagne-video. En kijk waar ze nu is. Hét bewijs dat iedereen het in zich heeft om voor major veranderingen in de wereld te zorgen.
Voor de allereerste keer werden ook twee Moslima's verkozen voor in het Congres: Michigan's Rashida Tlaib en Minnesota's Ilhan Omar. In de staat Colorado werd de eerste openlijk homoseksuele gouverneur verkozen, de Democratische Jared Polis. Sharice Davids uit Kansas en Deb Haaland uit New Mexico zijn de eerste vrouwelijke Native-Americans in het Congres (Sharice is ook openlijk lesbisch!) en Ayanna Pressley, een Democraat uit Massachusetts, is de eerste zwarte vrouw in het Congres. En dan hebben we nog niet eens alle inspirerende kandidaten genoemd. Way to go, y'all!
https://www.instagram.com/p/Bp4yGqbh39w/
Vond je dit nou interessant? Laat het ons weten via de comments hieronder of holla at us op Instagram. We'd love to hear your thoughts! <3
https://www.instagram.com/p/Bp5Lt6CguUL/
Gerelateerde artikelen