Want zeg nou zelf, we kunnen toch nooit genoeg krijgen van de Nieuw-Zeelandse(!) hottie…
1. Hij verhuisde all the way van Nieuw-Zeeland naar Amerika om zijn dromen na te jagen.
Maar, no worries. Zijn accent reisde gewoon met hem mee.
Kiwi slang with @kj_apa! 😜Don't miss him as Archie in an all-new @CW_Riverdale tonight! pic.twitter.com/R7dFqyd2ZW

— ExtraTV (@extratv) February 23, 2017
2. Hij <3 zijn familie
https://www.instagram.com/p/SH8O5Yu_bd/
Aww, cute little bean! KJ heeft trouwens ook nog twee zusjes, Arieta en Timena. Bonuspunten voor KJ's ouders, dat ze hun kids zulke bijzondere namen hebben gegeven.
3. Hij is super close met Riverdale-collega Cole Sprouse
Kijk maar…
Always thinking about that delectable marmite. pic.twitter.com/NYy82uGAUR

— KJ Apa (@kj_apa) March 31, 2017
4. Hij is dol op reizen
Moving to Paris

— KJ Apa (@kj_apa) May 31, 2017
Oui! Oui! Oui! I've only been here 30 mins and Paris is the best place I have ever been

— KJ Apa (@kj_apa) May 31, 2017
Um, wat??
London.U guys were epic.Thanks 2 all that came..and 4 the girls that gave me prezzies you know who u are! So psyched on u guys, love u!

— KJ Apa (@kj_apa) May 28, 2017
Wij, jaloers? Nah (JA DUH).
5. Hij is amazing met een elektrische gitaar
https://www.instagram.com/p/6IbLMpO_ST/
BRB, dying over het videobijschrift…
https://www.instagram.com/p/BRZ3Oayh4os/
6. Zijn sterrenbeeld is Kreeft
Hij is jarig op 17 juni en Cole was volgens KJ de enige die dit wist. Little does he know dat wij de 17e allemaal in de rij stonden om deze feestelijke dag met hem te vieren… Volgend jaar feestje bij jou thuis, KJ?
Shout out to @colesprouse for being the only one to get my bday right

— KJ Apa (@kj_apa) June 17, 2017
7. Hij kijkt 13 Reasons Why
En dat maakte hij duidelijk door onderstaande Tweet te retweeten. Bingewatch buddy nodig, KJ? Wij bieden ons aan.
Binge plan:
Mon – 13 Reasons Why
Tue – 13 Reasons Why
Wed – 13 Reasons Why
Thu – 13 Reasons Why
Fri – RIVERDALE
Sat – 13 Reasons Why
Sun – 😴

— Netflix UK & Ireland (@NetflixUK) April 3, 2017
8. Hij is obsessed met honden
Trouw met ons.
https://www.instagram.com/p/BHrHyMwhYml/
9. Hij houdt wel van een geintje
10. Hij is down to earth AF
Being YOURSELF will never lead you astray.

— KJ Apa (@kj_apa) April 8, 2017

Thanks for being awesome, KJ!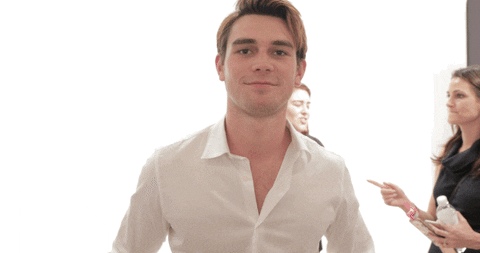 Fotografie: BrunoPress
Bron: Seventeen.com