Ariana Grande blessed ons al de hele week met sneak peeks van haar nieuwe music video 'Thank U, Next' en het is amazeballs! Niet alleen zijn we al vanaf de eerste seconde fan van de break up anthem, de video die ervoor is gemaakt is geïnspireerd op de film Mean Girls! De previews zijn genius en we kunnen niet wachten op de hele video. Hier zijn 6 overeenkomsten tussen de komende 'Thank U, Next' music video en onze all time fav chick flick.

The Burn Book
Iedereen herinnert zich The Burn Book. Het roze gevaarte waar je absoluut niet in wil voorkomen. Well, Ari heeft haar eigen versie gemaakt. Wie zouden er allemaal in het Thank U, Next boek staan? Peter? Sean? Ricky? Malcolm?
The Plastics
Een remake van Mean Girls is niets zonder The Plastics. Ariana Grande postte op haar Instagram een foto van haar eigen Plastic crew, met Elizabeth Gillies van Dynasty als Cady. Die op de foto sprekend lijkt op Lindsey Lohan! Just wow.

The real Aaron Samuels
Zie je het nou goed? Ja, je ziet het goed. Ari zou Ari niet zijn als ze niet de originele guy candy uit Mean Girls in haar eigen remake heeft natuurlijk. Jonathan Bennett, zoals hij echt heet, is geen dag ouder geworden vinden jullie niet? Kun je je voorstellen dat Jonathan nu veertien jaar ouder is dan toen hij Aaron voor het eerst speelde…
Wie is dit ook alweer?
Oké dit is geen Mean Girls referentie, maar de vrouw op deze foto is Jennifer Coolidge. Je herkent haar van haar rollen in andere iconische chick flicks, zoals Legally Blond en A Cinderella Story. In de laatste speelt ze Fiona, de stiefmoeder die je nooit wenst te hebben. Wij zijn benieuwd wat haar rol in de 'Thank U, Next' video zal zijn!
De gossip scenes
Remember de Mean Girls scenes waarin het lijkt alsof de studenten geïnterviewd worden over Regina George? Well, deze zijn in de trailer voor 'Thank U, Next' nagemaakt. Maar dan met de roddels die er over Ariana rondgaan en dat is confident en funny AF!

'Army Pants and Flip-Flops'
In de trailer zegt een meisje 'Ariana broke off an engagement so I found a guy that propose to me and I broke off the engagement'. Tenzij je een Mean Girls megafan bent, dacht je op dit moment, wie is dat ook alweer? Stefanie Drummond aka Bethany Byrd aka the 'Army Pants and Flips Flops' girl. Haar naam wist je hoogstwaarschijnlijk niet meer, maar haar one-liners zijn golden. Wat dacht je van 'One time she punched me in the face, it was awesome' en 'Somebody wrote in that book that I'am lying about being a virgin because I use super jumbo tampons… but I can't help if I've got a heavy flow and a wide-set vagina!'. Yup, die Bethany is back!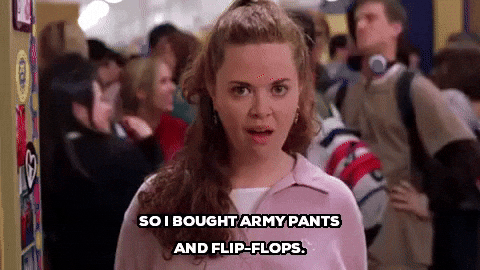 LEES OOK:
Fotografie: Instagram @arianagrande