Misschien heb je het gemist, maar er komt een deel 3 van de classic chick flick Legally Blonde. Awe-some! We hebben er lang op moeten wachten, maar het gebeurd toch eindelijk echt.
En 'it's gonna be so fun!', zegt Reese Witherspoon tegen Entertainment Tonight. 'I got to go to a meeting the other day where we talked about all the new plot points and all the characters and some returning characters and some new characters.'
Laten we hopen dat ze met terugkerende karakters in ieder geval doelt op haar chihuahua Bruiser Woods. 'I mean, I got so excited just in the meeting. I was like, "This is gonna be good'. En daar zijn we het helemaal mee eens, dit kan niet anders dan goed worden en we kunnen niet wachten!
Momenteel is Reese nog druk met de opnames van Big Little Lies seizoen twee, maar hopelijk heeft ze snel tijd om zich in roze te verhullen als onze favoriete advocate. Twee dingen zijn een feit: een aantal karakters komen dus terug en de film zal snel worden opgenomen.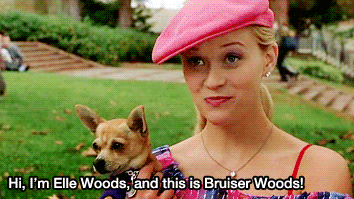 Fotografie: Legally Blonde