Lili Reinhart over het dragen van ondergoed op de set van Riverdale: 'I Don't Have the CW Girl Body'
28 augustus 2020
In februari tweette Lili Reinhart al dat ze zich 'geïntimideerd' voelde door de lichamen van haar co-stars. Maar nu pronkt ze met haar lichaam op de set, om body positivity te oefenen.
Lili Reinhart heeft altijd al openlijk over body positivity gesproken én over haar eigen onzekerheden over haar lichaam. In een interview met Los Angeles Times, onthulde de actrice hoe hard het soms kan zijn om zichzelf te accepteren en haar lichaam te laten zien on screen, hoewel ze weet dat het belangrijk is.
'I don't have the CW girl body—tiny waist, nice-shaped legs, skinny, small, tiny', vertelde Lili. In het laatste seizoen van Riverdale moest Lili een scene doen in alleen een bh en onderbroek en liet weten dat ze hier heel nerveus over was. 'I really, really didn't want to do it. Ik vertelde dit aan niemand. Ik werd niet onder druk gezet om dit te doen. Ik deed het omdat het mijn werk is. Toch voelde ik me slecht over dat ik het deed. I really did.'
Uiteindelijk vond Lili het belangrijk om de scène te doen zoals deze was geschreven. 'I can't preach body positivity if I don't practice it. Dus ook al voelde ik me niet fijn over mijn lichaam, vond ik het belangrijk voor mezelf om de scene alsnog te doen in just a bra and underwear, zodat mensen mijn lichaam konden zien zoals ze is. I did it for the people who feel like they need to look a certain way.'
Cole Sprouse bevestigt break-up met Lili Reinhart via Insta-post
Intimiderend
Eerder dit jaar liet Lili weten hoe de lichamen van haar castmates haar intimideerde. Een fan reageerde op haar tweet met de vraag waarom iedereen in Riverdale 'perfect body's' heeft. De tweets zijn inmiddels verdwenen, maar volgens Lili Reinhard heeft niet iedereen op de set 'het perfecte lichaam'. En alhoewel ik mezelf geïntimideerd voel over mijn lichaamsbouw wanneer ik omringd ben door mijn collega's wanneer ik scenes in mijn ondergoed moet doen, voelde ik me erg onzeker over de verwachtingen die mensen hebben over vrouwen op tv over ze eruit 'moeten' zien.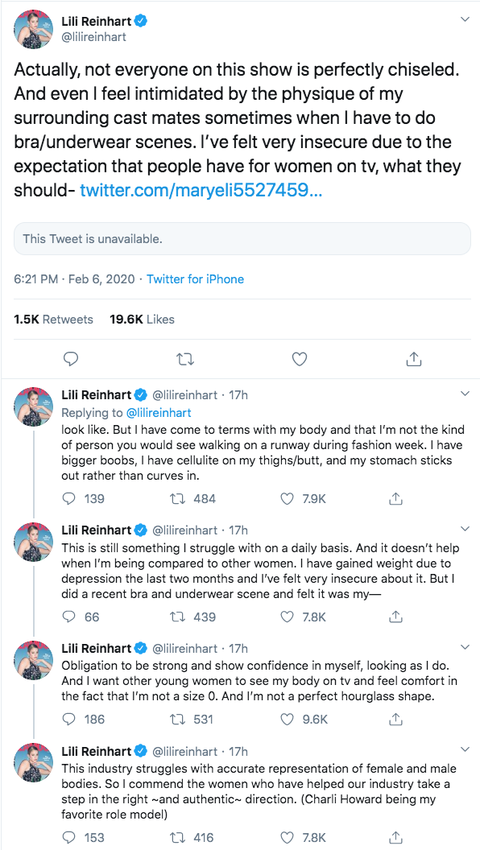 Lili Reinhart geeft kritiek op fotobewerking app en komt op voor body positivity
Ze bleef erop wijzen dat ze nu vreden heeft met haar lichaam. 'I'm not the kind of person you would see walking on a runway during fashion week. Ik heb grote borsten, ik heb cellulitis op mijn dijen en bil.' Lili geeft toe dat ze soms dagelijks nog met haar lichaam struggeld en het niet helpt om vergeleken te worden met andere vrouwen.
Lili vertelde aan LA Times dat ze de meningen van Internet trolls, die zich verschuilen achter neppe Twitter accounts en haar dik noemen, niet serieus neemt. Ze weet dat wat ze op Twitter leest not realistic at all is.
'Wanneer je door Instagram scrollt denk je alleen maar: "wow, kijk al deze perfecte getande lichamen". Maar wanneer je naar het strand gaat, ziet de wereld er dan ook zo uit? Ik zie niemand die er ook zo uitziet IRL. Instagram en de Victoria's Secret modeshow zijn niet hoe mensen er in het "echte leven" ook uitzien.'
LEES OOK:
Beeld: ANP | Bron: Seventeen
Gerelateerde artikelen